Saskatchewan Police Officer Wellness Conference
Education Event
Starts: October 29, 2015 8:00 am Ends: October 30, 2015 6:00 pm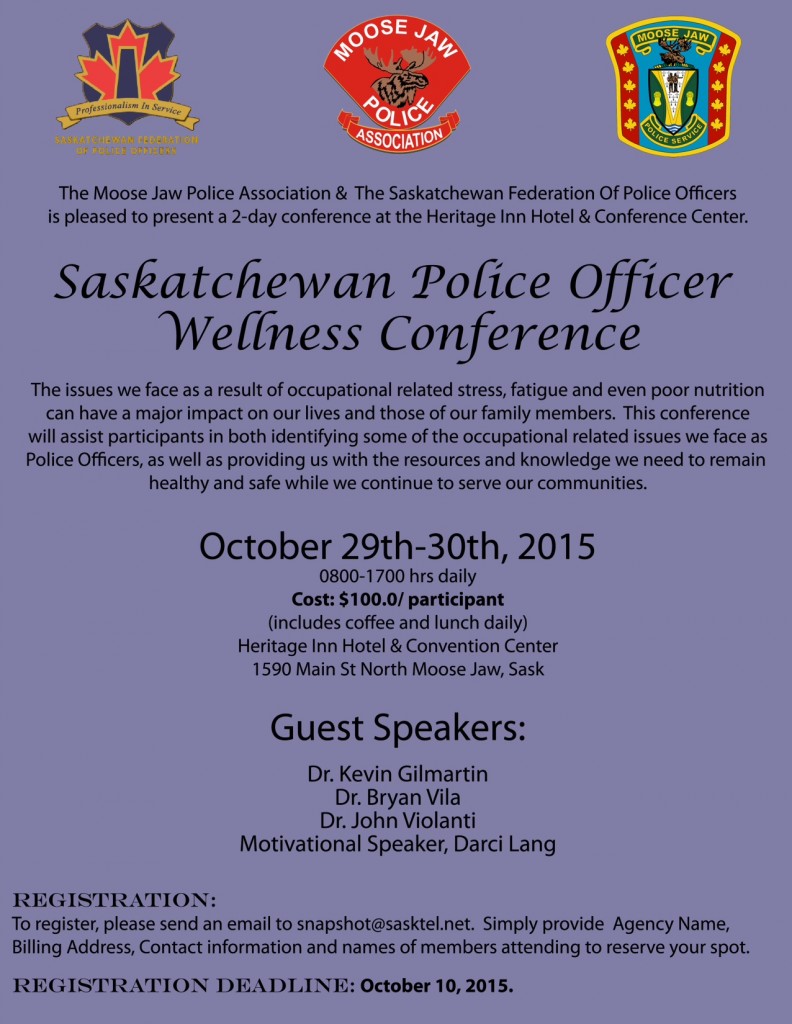 We would like to invite you to participate in the 1st Annual Saskatchewan Police Officer Wellness Conference hosted by the Moose Jaw Police Association. The Conference will be held October 29th and 30th, 2015 at the Heritage Inn Hotel and Convention Center, Moose Jaw, Sk.
As police officers, we dedicate our lives to a career that will help ensure the safety and well-being of the members of our various communities. Although our careers are very rewarding, we unfortunately sometimes overlook the negative effects our work can have on both our emotional and physical well-being. The issues we face as a result of occupational related stress, fatigue and even poor nutrition can have a major impact on our lives and those of our family members.
The 1st Annual Saskatchewan Police Officer Wellness Conference will assist participants in both identifying some of the occupational related issues we face as police officers, as well as providing us with the resources and knowledge we need to remain healthy and safe while we continue to serve our communities.
Guest speakers presenting at this year's conference include:
Kevin M. Gilmartin, Ph.D.
Dr. Gilmartin is a behavioral sciences and management consultant specializing in the law enforcement and public safety areas. He formerly spent twenty years in law enforcement in Tucson, Arizona. During his tenure, he supervised the Behavioral Sciences Unit and the Hostage Negotiations Team.
Dr. Gilmartin is a former recipient of the IACP-Parade Magazine National Police Officer Service Award for contributions during hostage negotiations. He presently maintains a consulting relationship with law enforcement agencies nationally in the U.S. and in Canada. He holds adjunct faculty positions with The University of Massachusetts Police Leadership Institute, and The Law Enforcement Management Institute of Texas at Sam Houston State University. He is a guest instructor at the FBI Academy in Quantico, Virginia and a faculty member of the FBI Law Enforcement Executive Development Institute (LEEDS, EDI and the National Executive Development Institute). He is retained by several Federal law enforcement agency critical incident response teams. He is a charter member of the IACP: Psychological Services Section and former vice-president of the Society of Police and Criminal Psychology. He holds a doctoral degree in clinical psychology from the University of Arizona. In addition to being the author of the book Emotional Survival for Law Enforcement, he is the author of numerous articles published by the Dept. of Justice, the IACP, and the FBI. He is a veteran of the U.S. Marine Corps and resides in Portland, Oregon and Tucson, Arizona.
Bryan Vila, PhD – Professor of Criminal Justice and Criminology & Director of the Sleep & Performance Research Center
Bryan Vila, Ph.D., is a professor of criminal justice and criminology at WSU Spokane. Prior to joining WSU in July 2005, he directed the Division of Crime Control and Prevention Research at the U.S. Department of Justice's National Institute of Justice. Dr. Vila received his Ph.D. in Ecology from the University of California, Davis in 1990.
He has held tenured faculty positions at the University of California, Irvine and the University of Wyoming. He was honored with the College of Liberal Arts Outstanding Career Achievement in Scholarship Award for 2012 for his research on the impact of fatigue and stress on police performance, his publication record, and his successful grantsmanship.
Before he became an academic, Dr. Vila served as a law enforcement officer for 17 years including nine years as a street cop and supervisor with the Los Angeles County Sheriff's Department, six years as a police chief helping the emerging nations of Micronesia develop innovative law enforcement strategies, and two years in Washington, D.C., as a federal law enforcement officer.
Bryan Vila – Washington State University at Spokane 
John M. Violanti, PhD – Research Professor, Department of Epidemiology & Environmental Health
Dr. Violanti is a Research Professor in the Department of Epidemiology and Environmental Health, School of Public Health and Health Professions, University at Buffalo and a member of the University at Buffalo graduate faculty. He is a police veteran, serving with the New York State Police for 23 years as a trooper, criminal investigator, and later as a coordinator of the Psychological Assistance Program (EAP) for the State Police.
 Dr. Violanti has been involved in the design, implementation, and analysis of police stress and health studies during his entire career. Recent projects include a longitudinal study on psychological stress and cardiovascular disease in police officers and the impact of shift work on police health outcomes funded by the National Institute of Occupational Safety and Health. Dr. Violanti has authored over 50 peer-reviewed articles on police stress and PTSD, police mortality, suicide, and cardiovascular health. He has also written and edited seventeen books on topics of police stress, psychological trauma, and suicide. He has lectured nationally and internationally at academic institutions and police agencies on matters of suicide, stress and trauma at work.
John M. Violanti, PhD – Epidemiology and Environmental 
Darci Lang
Darci Lang is an inspiring motivational speaker who specializes in assisting organizations by creating a new philosophy within the workforce – Focus on the 90% – affecting change, solutions, innovation, and leadership. She challenges participants to look in the mirror and reflect on the positives in life: what we have, what we can change, and how our focus affects those around us, at work and in our personal lives.
At the age of 45, Darci is a professional speaker, a best-selling author, a blogger, a wife and a mom to two teenage children. She walks the fine line of balancing home, family and work. She has won the Saskatchewan Woman Entrepreneur of the Year Award, Achieving Business Excellence Award, been a finalist in the Canadian Woman Entrepreneur of the Year Awards and nine other nationally recognized business excellence awards.
Heritage Inn Hotel & Convention Centre
Canada
Location
Heritage Inn Hotel & Convention Centre, Moose Jaw, SK, Canada
Heritage Inn Hotel & Convention Centre, Moose Jaw, SK, Canada
Enlarge Map